This last year has been a very exciting one for the Las Nubes Project, with several research projects carried out, important community outreach activities underway, new opportunities for students and community members to work together in Costa Rica, as well as the consolidation of key institutional infrastructure. Here is a sample of what Las Nubes has been up to:
Student Research in the Alexander Skutch Biological Corridor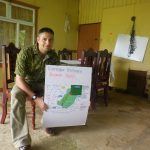 Francesc Rodriguez is completing his doctorate on the intersections between environmental decision-making and knowledge production in Costa Rica, focusing on a socio-environmental controversy over the construction of run-of-the-river dams in communities in and adjacent to the Alexander Skutch Biological Corridor. Read more
From February 2017 to May 2017 MES students Olivia Caravaggio and Natalie Cummins will implement a community-based participatory action research project in the communities of Santa Elena, Quizarra, and Monte Carlo. The project is focused on exploring the impact of a family environmental education (EE) program on promoting positive partnership and knowledge exchange between a university and surrounding communities. The family EE program will be developed in partnership with schools, community members and students in each community. The program will include planning and feedback consultation sessions, a participatory visual research method where program participants document their experience in program using photography, and will result in a co-produced EE curriculum manual for participating schools.
Read More
Project Research
The Alexander Skutch Biological Corridor (ASBC) is an Ark (ARCA in Spanish) of biodiversity, with abundant plants and invertebrates, over 300 species of birds and a great variety of mammals. ASBC is also a preferred space for amphibians and reptiles. Since 2106, Andrés Jiménez Monge has been working in conjunction with Dr. Felipe Montoya on a database of amphibians and reptiles occurring in the ASBC. Read more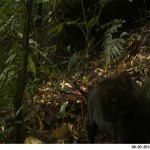 Mike Mooring of Point Loma University has continued to be a partner in the long-term Mammal Monitoring Project. This project continues to generate much valuable information about biodiversity in the region, including the confirmation (and amazing photographs) of at least 13 species of mammals, including armadillos, wild boars, ant-eaters, white-collared peccaries, coyotes, ocelots, pumas (mountain lion) and the endangered river otter among others in the biological corridor. This project has already provided evidence of the presence of endangered species in the corridor, key information that continues to confirm the vital importance that the corridor and its ecological connectivity has for species conservation.