The Alexander Skutch Biological Corridor (ASBC) has a five year strategic plan that includes research as one of its pillars. The Las Nubes Project has contributed in the last year to move forward this pillar by supporting graduate student research, as well as research by faculty from York and other universities.
During this year Dr. Bunch and Dr. Montoya presented a bid for IDRC funding to support a five-year interdisciplinary and inter-institutional research project to determine and monitor socio-environmental sustainability indicators in the ASBC. While this bid was not selected, it established the groundwork necessary for future Canadian-Costa Rican research partnerships in the framework of the Las Nubes Project.
Student Research in the Alexander Skutch Biological Corridor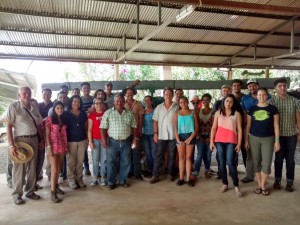 MES student Wafaa el Osta carried out field research to explore the feasibility of sustainable tourism in the ASBC. Her research produced a map of community-based tourist offerings, as well as strategies to establish linkages along the production chain to launch a sustainable community-based tourism project in the corridor. This exploratory research supported a successful bid by FES faculty Dr. Montoya for research funding by a SSHRC Connection Grant.
This year, a forum and workshop coordinated by professor Felipe Montoya aimed at fostering connections related to sustainable tourism development also took place in the Alexander Skutch Biological Corridor. The event brought together stakeholders on both the supply and demand side, with the potential of launching new sustainable income-generating activities linked to conservation in the Corridor, and building on connections between Canada and its Costa Rican partners.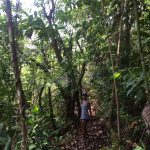 Stephanie's master research was focused on the occurrence of Neotropical river otter (
Lontra longicaudis
) in the Alexander Skutch Biological Corridor.
Read more
Project Research
A 3-year monitoring project supported by the Molson Foundation and led by the late Dr. Howard Daugherty, sought to increase the knowledge and information base on Neotropical migratory bids in the ASBC; to monitor changes in population; and to advance the understanding, appreciation and conservation value of these species.
Several student research projects were supported by this initiative (Christina Carter, Chris Saker, Calandra Stanley and Aileen Rapson). Species found through this research were compiled a 2015 publication edited by Dr. Felipe Montoya and Ph.D. candidate Ana María Martinez. The bird guide, which contains nearly 300 bird species documented during the monitoring project seeks to attract bird-watchers to the Corridor, as well as linking conservation efforts with improved community wellbeing, enabling the corridor to become an important destination for birders. The bilingual publication "Birds of the Alexander Skutch Biological Corridor", will generate interest in training for nature guides among the local youth and attract birders from around the world to visit the corridor as a tourist destination.  With interest in birds contributing to the local economy, the conservation of their habitats will follow as an important economic safeguard. Read more.