When:
June 11, 2018 @ 9:00 am – June 20, 2018 @ 5:00 pm
2018-06-11T09:00:00-04:00
2018-06-20T17:00:00-04:00
Where:
Las Nubes EcoCampus
Las Nubes Biological Reserve
San José Province, Pérez Zeledón
Costa Rica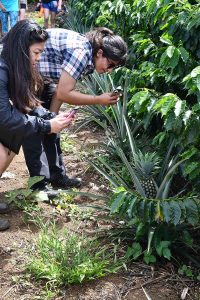 Instructor: Leesa Fawcett
Experiencing, appreciating and recognizing the biodiversity of the tropical forests in the Las Nubes area, while considering the political ecology of the region is the intention of this course. By studying the beliefs, theories and practices of naturalists (e.g. Darwin, Alexander Skutch and contemporary Costa Rican scholars), we will critically interpret differing historical narratives and images of nature. In the field, with close observation, students will describe and document the lives of mammals, amphibians, birds, plants, and insects in the Las Nubes area, the greater corridor, and its watershed. The over-arching course goal is to continue to build place-based eco-social knowledge and to translate that learning into critical environmental education initiatives and citizen science for the surrounding, interdependent human and more-than human communities.